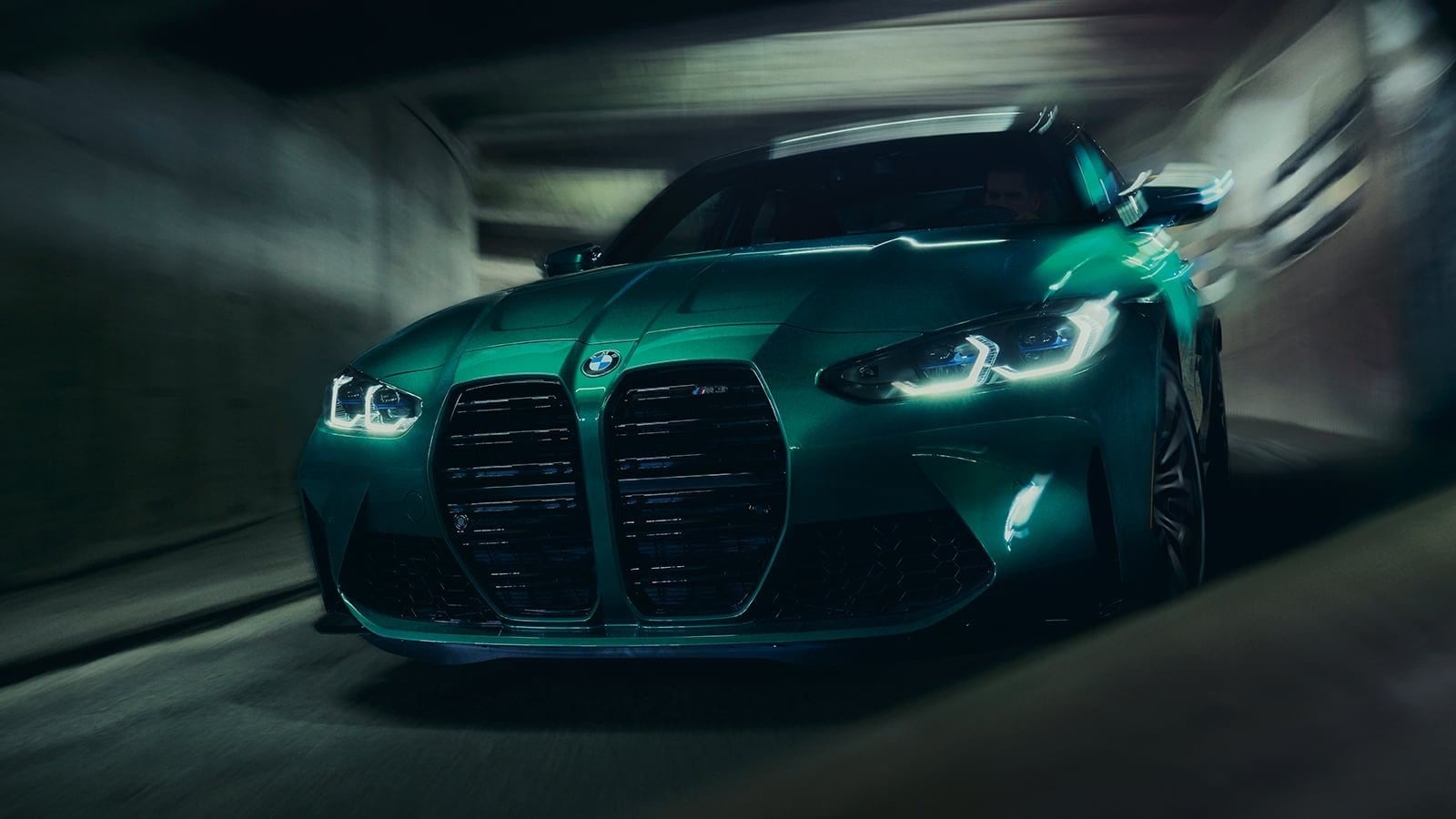 Thirty-five years in the making, the all-new BMW M3 is finally ready for public consumption. Having followed the 2021 M3 redesign closely, we can tell you, with more than a subtle tinge of excitement, that it's coming to a BMW dealer near you very soon. (Your heart just skipped a beat, didn't it?)
Excitement is warranted, too, which is not often the case with other luxury car releases. The upcoming BMW M3 – a name we're guessing is an acronym for "Mmm" because it's so utterly delicious – is a perfectly juxtaposed mishmash of old-school Bimmer and 21st-century zest. As such, the eclectic M3 should be appetizing to BMW loyalists, young and old alike.
How appetizing? Let's dig in and find out. Here's everything you need to know about the 2021 BMW M3, available for sale and lease this March.
M3 Goes Back to the Basics
Old is the new new. To continue the model's storied tradition and keep up with the retro-Joneses, the new 2021 RWD M3 will come fitted with a manual transmission – a feature that most rival sports cars have ditched in recent years. [We pause to let the applause settle.] It's a 6-speed that features short, precise gear shifts to reemphasize the classic connected driving experience. To downshift to the lowest possible gear, drivers can also pull the steering wheel's shifter paddle while throttling. It's a nifty little function that's very much welcomed.
To add a bit of new-age oomph, BMW engineers added Gear Shift Assistant to the M3 recipe, which aims to improve stability and overall ride quality by matching engine revs on downshifts. Because drivers are as fickle as felines, BMW's know-it-all designers thankfully made this system toggleable via the iDrive menu (we tend to like the Gear Shift Assistant, but to each their own).
Of course, the 2021 M3 offers a more conventional transmission in their 8-speed M STEPTRONIC. Standard on M3 Competition trims, the 8-speed automatic transmission features Drivelogic, one of our favorite new BMW car features. Drivelogic enables drivers to finely tune their driving experience via three unique modes: comfort oriented, sporty, and track focused. Each mode features the perfect amount of shifting to meet the needs of the driver and the road conditions.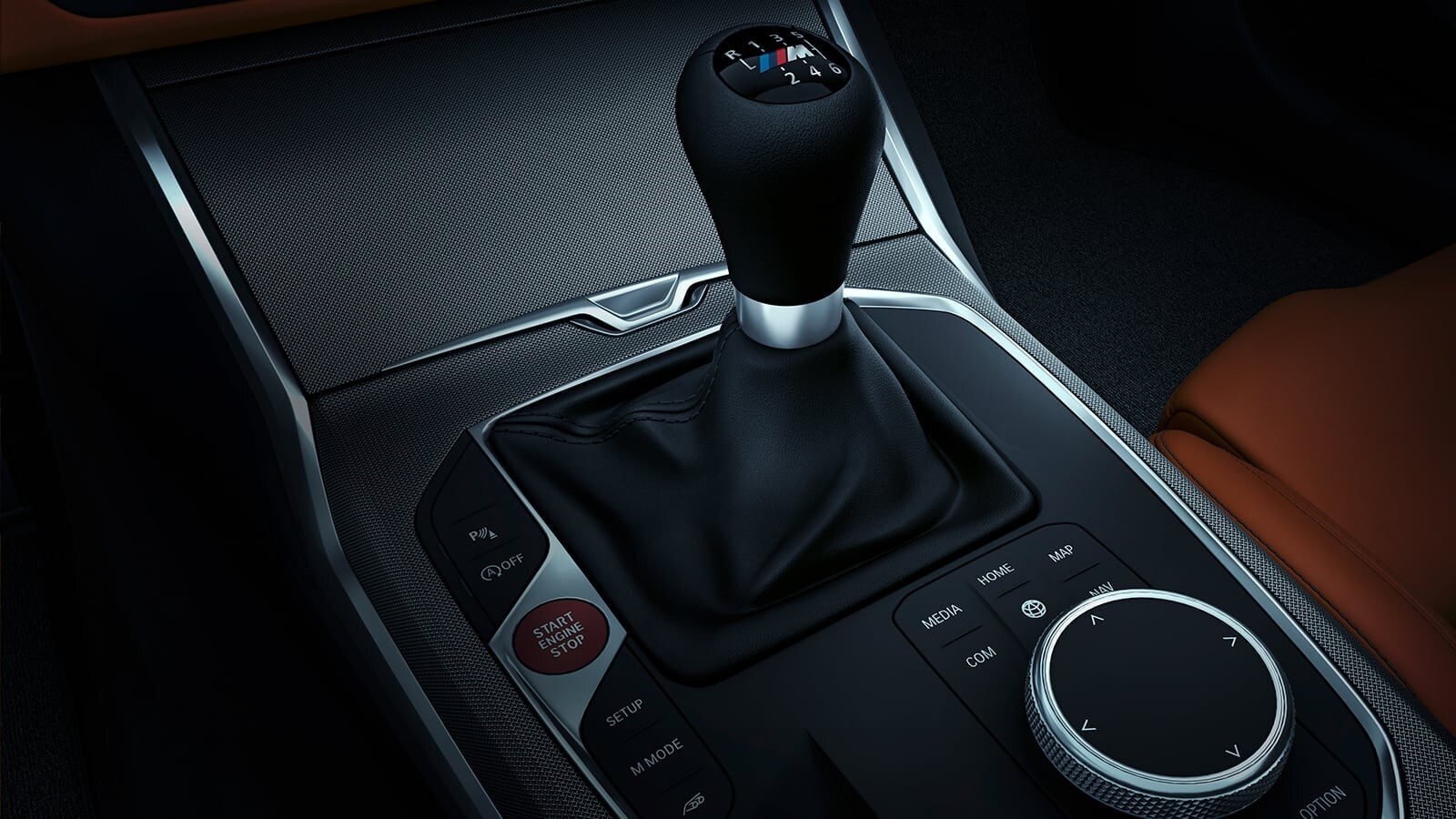 A Powerhouse with Ridiculous Horsepower
The 2021 M3 is more powerful than its predecessor, full stop. With its new baseline S58 inline-6, the M3 makes 473 horsepower (at 6250 rpm) and 406 lb-ft of torque (between 2650-6130 rpm) – a boost of 59 hp and 73 lb-ft over the fifth-gen model. The result is a blistering 0-to-60 time of 4.1 seconds and a top speed of up to 180 mph.
M3 Competition models takes things even further, offering an S58 engine that makes 503 horsepower and 479 lb-ft of torque at just 5500 rpm. Sharing the entry M3's 180-mph top speed and 7200-rpm redline, the M3 Competition can break 60 mph in just 3.8 seconds.
Unique Cooling Systems
With a focus on track use, all M3s include a water and oil cooling system to reduce the workload placed on the engines, especially when exposed to high temperatures. The large front intakes and centered grille improve airflow to the engine bay as well as the lower engine cooler system. An added "low temperature" cooling circuit also does some work by using its electric cooling pump to ensure the intercooler is keeping up with the pace. The mechanical coolant pump and main radiator supply coolant to the engine and turbocharger coils, while an electric cooling pump quickens turbocharger cooling time when the engine shuts off. Even the dual-branch exhaust gets in on the action thanks to electrically controlled flaps that reduce engine noise (hey, we all play our part).
In all, it's the embodiment of a well-oiled Ultimate Driving Machine.
M xDrive Intelligent All-Wheel Drive
An optional M xDrive system, exclusive to M3 Competition models, is slated to join the ranks for the first time ever this summer. It features multi-plate clutches, which are electronically controlled automatically, and an Active M differential to help direct torque between front and rear axles. In most situations, you'll explore the open roads in classic rear-wheel drive; but when more traction is needed, torque gets divvied up and a boost is sent to the front wheels for all-wheel drive.
Much like the Drivelogic transmission system, M xDrive also offers the choice of three drive modes. In the default 4WD setup, the M3 keeps to RWD for precisely controlled handling. In the 4WD Sport settings, the M3 moves more torque to the rear wheels for added driving dynamics on the track. The 2WD mode provides an unadulterated RWD experience without any extra noise – it's ideal for those who like their cars with a side of vintage.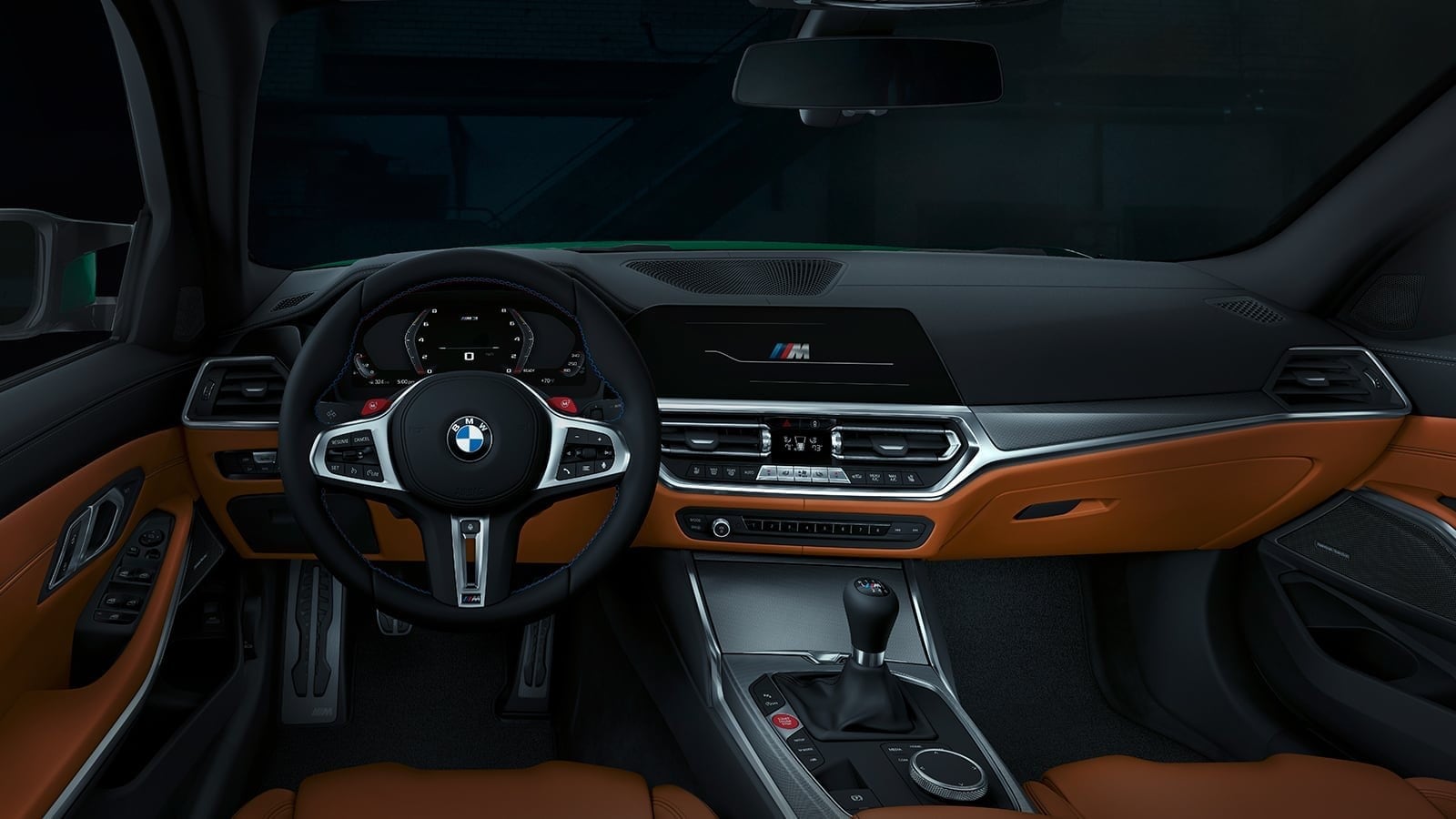 A Cabin
for

the Ages

Upon entering your new M3, you're welcomed by exquisite waterfall lighting – and it's the perfect intro to what is perhaps the most advanced BMW M3 cabin in the history of M3 cabins. In fact, there are so many features and styling cues inside, it's a monumental task to even mention them, let alone sway you, lucky reader, to check them out. Instead, we're highlighting a few of our favorite M3 features. (You can see the rest when you visit our Miami BMW dealership, right?)
Heated M Sport Seats
Newly developed M sport seats come with Merino leather trim, bolstered side cushioning, and illuminated badging. Oh, and heating. It may not get cold enough in Miami to use these, but when you venture further north, you'll be glad you have 'em.
If you like to stay in South Florida full-time, the M sport seats also come with optional perforation and ventilation, which is a first-time offering in the M3 line.
BMW Live Cockpit Professional
Though oddly named, the BMW cockpit setup is far from oddly designed. Its fully digital 12.3" instrument display is bright and expansive. The 10.25" high-resolution touchscreen is intuitive to use, angled nicely toward the driver, and quick on the draw thanks to an improved iDrive 7.0 OS. The optional Head-Up Display, which offers 70% more visibility than before, puts us in Flinstones territory, and we couldn't be happier to see our turn-by-turn directions within our natural eyeline.
Which brings us to what's perhaps the best M3 feature of all: Cloud-based navigation. Speed and accuracy are greatly improved with this reworked nav, as BMW Maps can calculate routes, arrival times, and impending delays in the blink of an eye. Real-time traffic alerts and road data are sent through in shorter intervals than the previous system.
M Mode Button
The M Mode button, situated on the center console, right near the shifter, enables drivers to adjust how and when the M3 utilizes its various driver-assist systems, displays and features, including and especially M Drive Professional's ROAD, SPORT and TRACK modes.
ROAD Mode
All driver assistance systems and features are on.
SPORT Mode
M3's instrument cluster and HUD are adjusted to reduce "noise" by displaying only pertinent information, like tachometers, Shift Lights, and digital speed readings, among others. Brake- and steering-assist systems are turned off, as well.
TRACK Mode
Developed exclusively for the race track, TRACK mode deactivates all driver-assist, safety and comfort systems, and further reduces the information displayed through the instrument cluster and HUD.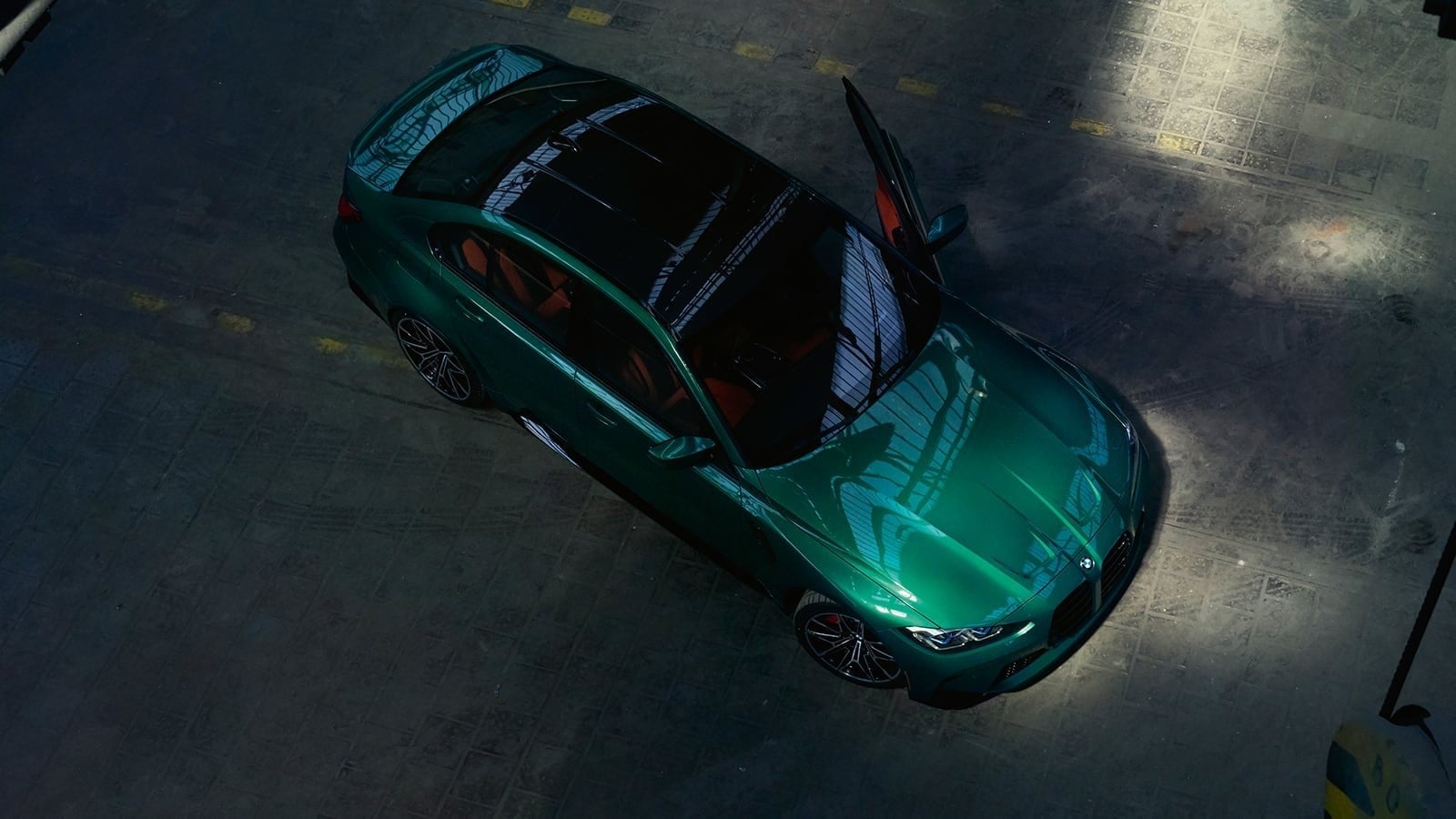 Shop Braman BMW Miami to Lease an M3
The iconic German sports car is nearly here, and we're ready to dish the M3 out to you when it arrives. All you need to do is contact our Miami BMW dealership at 786-235-9765 and speak with a member of our sales team to pre-order your new M3 in Florida. When the M3 finds its way to our showroom to coexist with all the other new 2021 BMW models, you'll be among the first in South Florida to get behind its wheel. Now, doesn't that sound appetizing?