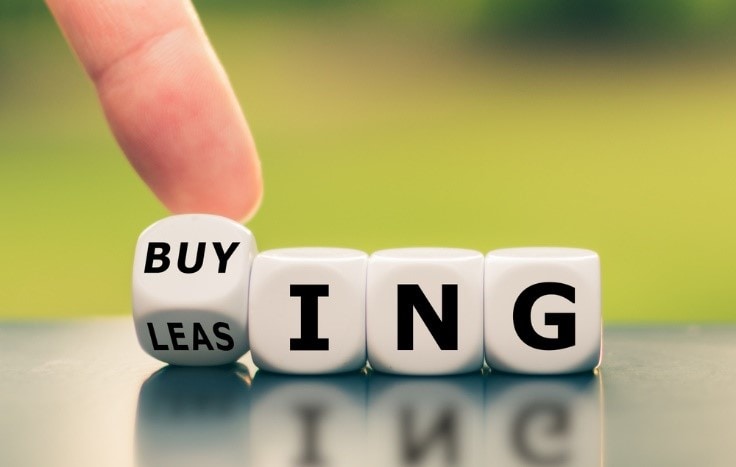 To lease or to purchase, that is the question. There are benefits to each approach, and depending on your particular needs and lifestyle, one option may be more preferable than the other. To help you decide which option is best for you, let's look at the differences between leasing and purchasing your new vehicle from Braman BMW.
The Benefits of Leasing
Lower Payments
Typical car loans are based on the full purchase price of the vehicle. But with a lease, you are paying the difference between the car's price and its residual value at the end of the lease term.
Say a new BMW 330i sedan is stickered at $50,000, and at the end of a three-year lease the vehicle's residual value is 55% of its original purchase price, making it worth around $27,500. You would then make lease payments on the remaining $22,500 instead of the full $50,000. This means you can get a more expensive car for less money.
Also, if you are looking for a small down payment – or no down payment at all, in some cases – then a lease may be right for you. However, your monthly BMW lease payments will either increase or decrease depending on how much money you put down upfront.
Always Under Warranty
If warranty coverage is important to you, many bumper-to-bumper warranties will cover you through the term of the lease; especially if it's a three-year lease which is more common. Of course, you still are obliged to perform regular maintenance, such as oil changes; otherwise, you could be penalized for failing to properly maintain your vehicle.
Loads of Tech
If you're someone who enjoys the latest styles, features, and technology, leasing could be for you. And, if you want to avoid the hassle of trading in your car, all you have to do is drop the car off and turn in the keys.
Drawbacks of Leasing
Mileage Restrictions
Of course, there are pros and cons to leasing a vehicle. Mileage, for example, is often capped at anywhere from 8,000 to 15,000 miles per year, with the average being about 12,000. You'll need to pay attention to your driving habits to ensure that you don't go over your annual mileage allotment; otherwise, you'll have to pay mileage overage fees.
No Ownership or Equity
Another thing to consider is that you are, in essence, "renting" the vehicle. Therefore, you're not building any equity. At the end of the lease, you either have to get a new car or convert the lease into a purchase by financing the remaining balance.
Learn more about the BMW lease-end return policy.
Good Credit Preferred
Additionally, most leases require an excellent credit score. If your credit score is stellar then it's not an issue. But if it's a bit tarnished, you may not qualify.
You can always speak to the experts at our South Florida BMW dealership if you want to lease a BMW with bad credit in Miami. We may be able to help you out – but it all starts with a phone call and online car loan application.
Benefits of Purchasing
Ownership & Equity
Some people really "fall in love" with their vehicle and plan to keep it a long time. If this sounds like you, then buying a car may make better sense. Not only are you building equity, but you own the car outright when it's paid off. So, when it comes time to sell, you'll be pocketing cash instead of heading home with nada.
No Car Payments (Eventually)
If you've kept your car in good condition, eliminating a monthly car payment could save you a bundle over having to go out and buy another car every three years or so.
No Restrictions
Unlike a lease, which requires you to return the vehicle in pristine, unaltered condition, owning a car means you aren't restricted to anything. You certainly don't have to worry about mileage restrictions or any "after-market" customization which usually isn't allowed with a lease. So, if you do a lot of driving, financing a BMW may be a better alternative.
Drawbacks of Purchasing
Potential of Being "Upside Down"
There are some negatives to buying a car which you should consider. First of all is the trade-in or resale value. If you owe more than your car is worth, it's called being "upside down" or having "negative equity." This will impact the purchase of a new vehicle since you will likely have to come up with the difference between what the car is worth and what you still owe on the loan.
Big Down Payments
Big down payments are another issue with buying a car since loan companies often require between 10% and 20% of the purchase price as a down payment. This could amount to several thousand dollars. Also, the loan term will affect your monthly payments; the longer you have the loan, the more the car will cost in interest.
Warranty Coverage Lapses
When you lease, you're almost always covered by a new-vehicle warranty, which can last anywhere from 2 to 10 years. BMW warranties, for instance, cover the vehicle for up to 4 years or 50,000 miles, whichever comes first, and also provides 12-year corrosion coverage and maintenance for 3 years/36,000 miles.
When you buy and own a BMW, and it crosses any of those lines, you're on the hook for any and all repairs, with the exception of recall repairs.
Of course, there are sometimes options available to extend your warranty coverage. You'll need to speak with your luxury car dealer to discuss such options.
We'll Help You Make the Right Choice
The choice between buying or leasing a car comes down to a number of factors, such as your budget, your lifestyle, your driving habits, and your credit score. Here at Braman BMW of Miami, our financing experts will walk you through every step of the process and help you decide which alternative is best for you. We have a number of attractive BMW lease deals on a variety of 2020 and 2021 models, too!
To find out more, stop by our Miami BMW dealership at 2060 Biscayne Blvd and speak with a member of our luxury vehicle sales team. You can also call us at 786-235-9765 to schedule a personal test drive.